According to CNN, "entrepreneurship is 'weaker than ever'", although the piece in question mistakes "entrepreneurship" for small business. The report highlights that US start-ups have declined drastically since 2006, and those small businesses treading water or staying above it are hiring fewer workers. This, of course, does not apply to entrepreneurship  because not all entrepreneurial pursuits involve hiring other workers.  So, truth be told, CNN is obfuscating the truth in their article: that American small businesses are endangered. Data from the Labor Department has demonstrated that in the 1980s and 1990s startups created 11 jobs per 1,000 people. In 2010 and 2011, that figure dropped below 8. (Read more…)
But, according to Census Bureau data, the total number of employer business has grown over the last three years. In terms of this figure, entrepreneurship is steadily expanding.  To be sure, the figure does not take into consideration that from 1977 to 2009 the working-age population in the US increased by seventy-five million people. But, to be sure, these examinations are considering small businesses, not the true amount of entrepreneurship. How many legitimate businesses out there are working on a cash only basis without a brick-and-mortar store that subjects them local and state regulation? Examining this number, buried deep inside the gray economy, is the only way to know what entrepreneurship in the US looks like, but uncovering this would cost trillions.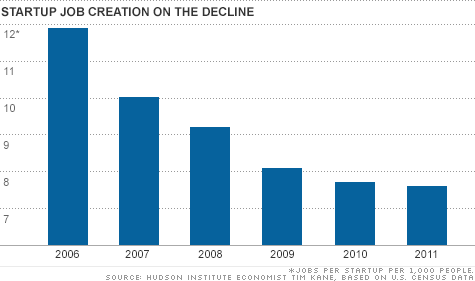 The trend shows that America's truest job creators, small businesses, are going the way of the buffalo, hence the end of the nine-to-five.  Until the recent trend, new companies were responsible for creating 3 million net new jobs each year, although that fell to 2.5 million during the "recession" through "2009," and recent government figures show the numbers are still diminishing.
Then there's the role entrepreneurs play in creating jobs. One recent study by the Small Business Administration (SBA) showed that businesses with fewer than twenty employees were responsible for more than 97 percent of all new jobs between 1988 and 2004.
Handicapping those would be entrepreneurial endeavors that create jobs are local regulations as local boards and state governments have ratcheted up regulation and demanded entrepreneurs get licenses to open shop.
Entrepreneurs and small businesses that hire help are not the same thing.  Sure, entrepreneurs start small businesses, but small businesses themselves are not entrepreneurs.  It is the independent employee that is plummeting from the US scene, having dropped 27% since 2009.  Yes, the downturn and overbearing government regulation is hampering the entrepreneurship. This is a truism of modern times.
The post US Small Businesses Squashed In Past Six Years appeared first on Silver Vigilante.
[VIA Silver Vigilante]